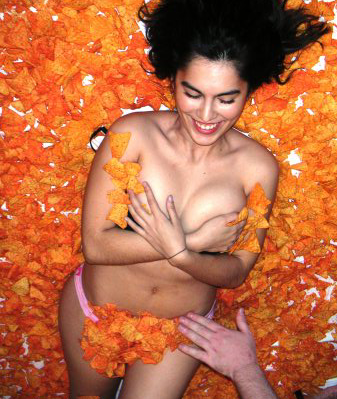 NOTE:  This is an updated version of an article I originally published way back in 2011.  Last year I saw these same ideas get used over and over and over so I figured this story deserved a re-post.  Enjoy!
It's October 18th which means we're now just 22 days away from the deadline for the Crash the Super Bowl contest.  So it's Crunch Time, folks! (pun intended)  But before you rush out and start filming, the first step in making a great Doritos commercial is research.  Obviously, you should watch all the entries that won the previous installments of the Crash but you should also try and figure out which concepts have already been done to death.  So I am going to do you a gigantic favor and list the Top 4 most over-used Crash the Super Bowl ideas!  Every year, Dortios gets tons of videos that have almost identical plots and gags.  The ideas might be new to the person who wrote the script but to the judges they are tired and totally unoriginal.  So if you want to stand out from the crowd, here are four concepts that you need to avoid.
–
1. Doritos as "paper" footballs

–
Hey, have you ever noticed that a Dorito kind of looks like a paper football?  If so, you're not alone because apparently a lot of people have noticed that! Over the last 10 years, I bet fritolay has received hundreds of CTSB entries that featured Doritos being used as "paper footballs."  I'm guessing this idea is so popular because a paper football is about the only small, triangular object most people can think of.  What's crazy about this particular idea is that pretty much every Paper Football entry has the same plot.  There is a tense and dramatic stand off between two competitors. The chip is "kicked" in slow motion but at the last second, there's a twist! Someone jumps into frame and blocks the kick by catching the chip in their mouth.
–
2. Dressing up in a giant Doritos costume

–
This weekend, dozens of filmmakers across the country will go into their garages and apply the finishing touches to their homemade, giant Doritos costumes.  Some of them will just be a single, orange sheet of poster board. Others will be meticulous, high quality suits that are made of foam and finished with an air-brushing of realistic orange and brown paint.  But if Frito-lay hasn't picked a CTSB finalist that featured a guy dressed as a Dorito by now, they are never going to.  That's because no matter how much work a person puts into their Dorito costume, the gag is just too easy.  Think of it like this; if Bud Light made a Super Bowl commercial where the joke was that the characters were in homemade Bud Light suits, how do you think that commercial would do on the USA Today ad meter?
–
3. Zombies!

–
This idea has been totally done to death. (Pun intended again!) If you head to the Crash the Super Bowl gallery and watch 50 videos in a row, I bet you'd see at least one zombie-themed entry. In fact, I just searched the gallery for the word "zombie" and there are already four submissions with the word zombie in the title!
It's easy to understand why Dortios gets so many zombie videos though.  Zombies are super popular, the costumes are really easy to make.  I'll break down a typical zombie story for you; a group of friends are running from hungry zombies.  The friends get trapped and the zombies attack. But they don't eat the people.  It turns out one of them has Doritos and that's what the zombies were after the whole time!  Oh but once the Doritos run out, the zombies then turn on the people.  The whole plot is so popular among video contest filmmakers that I did an entire blog post about the "Zombie Fake Out" trope.  So even though fake blood and zombie make-up is probably 20% off right now at Walmart, resist the temptation to shoot a chip commercial about the undead.
–
4. A "Sexy" Doritos Seduction
Note: This video is entitled "Doritos Super Bowl XLVII commercial – 2012 Winner" but it didn't win. Some idiots just name their videos "Crash the Super Bowl winner!" to help them get extra views.

–
Let's end on an over-done idea that I don't mind so much; the Sexy Doritos seduction.  These entries always play out the same way. A husband gets home after a hard day at work to find a trail of Doritos on the floor.  He follows the trail and it leads to the bedroom.  He opens the door to find his wife laying naked in bed…with only Doritos covering up her girly bits!  Of course, sometimes the concept is flipped around and it's a goofy looking dude laying in a bed full of Doritos.  Either way, this gag is extremely common.  Shoot an entry like this and all you'll get for your troubles is a set of orange sheets.  BONUS EXAMPLE: Here's one more "sexy" entry that features a woman bathing in tub of Doritos for absolutely no reason. Remember, if you're going to make your buddy's hot girlfriend get naked so you can cover her in Doritos you should at least come up with a story for your video. Just filming a girl in a tub of Doritos is exploitative and boring.
–

–
If you've ever shot a Crash the Super Bowl entry about any of the ideas I just listed, I'm sorry if I offended you! Trust me, I definitely understand what it's like to work hard on a video contest entry only to later realize that it was kind of unoriginal. But hopefully this post will help a few filmmakers avoid common, over-done ideas that simply don't have much chance of winning.
–