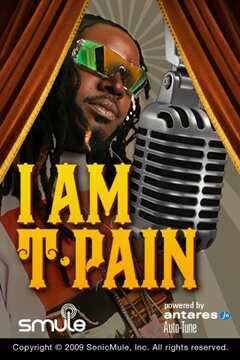 Man, T-Pain is a damn genius.  He not only helped make Auto-tuning popular but he's been smart enough to attach himself to the trend.  Basically he's been able to brand auto-tuning as a T-Pain thing.  And now you too can get auto-tuned with the "I Am T-Pain" iphone app.  It's got music and lyrics so you can sing along (auto-tuned style of course) to your favorite T-Pain tracks.  Sweet.
Now, another example of T-Pain's brilliance is his participation in Lonley Island's "I'm on a Boat" music video.  He scored major points in my book with that one.  The song is awesome and hilarious and a dash a of T-Pain put it over the top.  If you've never seen it, click here and thank me later.  That song and video are so good that even though it was a "comedy" song it just got nominated for a grammy for best hip-hop song of the year.
Anyway, to promote the "I Am T-Pain" iphone app, the company behind it held an "I'm on a blank" music video contest.  Whoever could make the best parody of "I'm on a Boat" would score themselves 5 grand and a "bigg ass chain.".  Here's the winning video which is pretty great.  I especially like it since it may be the first video contest entry I've ever seen that was filled with profanity.  So be aware, it is NSFW.
Grand Prize:  Prize: $5,000 and a Big Ass Chain
By the way, if you don't know what Auto-tuning, iphones apps, T-pain, Lonely Island or "NSFW" are then you need to spend less time reading books and more time on the internetz, grandpa.