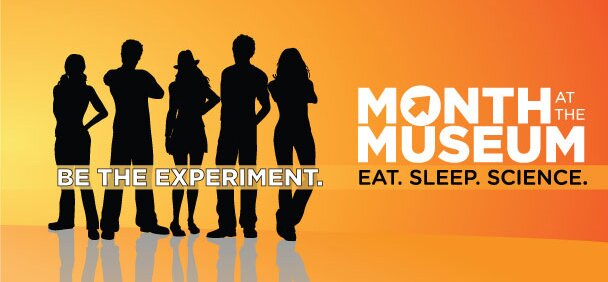 I live in the south suburbs of Chicago so I've been to the Museum of Science and Industry plenty of times over the years.  It's a fine place to spend an afternoon, especially if you like giant train sets.  But I don't know if I could handle spending a whole month there.  And that just happens to be the prize in the MSI's Month at the Museum contest.  Well, that and $10,000.  The winner of the contest gets to become the museum's "roommate" for 30 days.  Once the winner goes in, they can't leave.  They are given an "apartment" inside the museum but they can also go sleep among the exhibits.  I'd probably take up residence in the giant, walk-through heart.  Aside from sleeping in fiberglass organs the winner will also help promote the museum and teach science experiments to kids.  That's why, despite all the e-mails and messages I got from friends saying "this is the perfect contest for you!" I didn't enter this one.  It seemed like a sure thing that the winner would wind up being a cute girl with an adorable personality.  I mean seriously, think about it…a girl sleeping inside the lunar lander at the museum and teaching kids about magnets seems cute…but there's just something a bit creepy about a full grown man doing that.  Plus if I won, I would just hit on chicks all day long, man.  Eventually I'd find one who's fantasy it was to get in on in the coal mine.
More than 1,500 people submitted videos for this contest.  The MSI picked a group of finalists and let voters choose the ultimate winner.  Here she is:
Month at the Museum Winner. Prize: $10,000 + a month at the MSI

The way the MSI announced the winner was cool.  Here's a recap from the museum's website:
In this morning's live ceremony, the winner of the Month at the Museum search was revealed with scientific flair. Each of the five finalists — Alex, Felix, Johnathan, Kate and Krispijn — was given a laboratory flask and a test tube. Four of the flasks contained water, but the other actually held hydrogen peroxide. In this favorite experiment at MSI, called "Elephant's Toothpaste," only the flask of hydrogen peroxide would cause a reaction when, after a countdown, the finalists simultaneously poured test tubes of sodium iodide into their individual flasks. One flask sprouted a bubbly pillar of orange foam.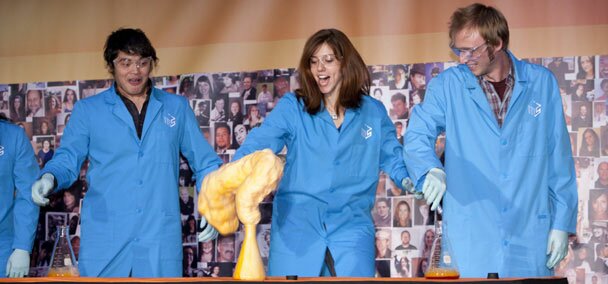 The winner starts her month at the MSI on October 20th.  I wasn't planning on going to the museum just to gawk at her but I just saw on the museum's website that they're currently running an exhibit about the muppets!  I might actually have to go to that.