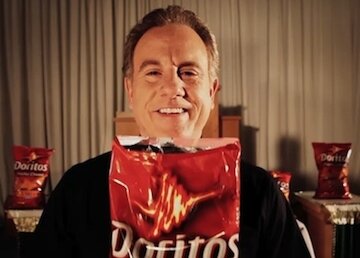 Fox news makes me want to puke.  Seriously, there must be some really despicable people running that network.  They seem to have one goal over there which is to stir up as much shit as possible.  They work long and hard to create as many divisions in this world as they can and sometimes the on-air personalities almost seem to delight in the act of turning something stupid and small into a BIG, FUCKING DEAL.
Apparently Fox's latest phony B.F.D is a lowly video contest entry.  Remember a few weeks back I mentioned a Crash the Super Bowl submission called "Feed Your Flock" that had managed to offend some Catholics because it featured what appeared to be a Doritos and Pepsi Max communion?  Well, when I first posted about the ad it was getting some coverage on the web thanks to bloggers who assumed it was Fritolay's OFFICIAL 2011 Super Bowl commercial.  These folks and their misinformed readers started contacting Doritos and Pepsi and threatened a boycott if the ad aired on Super Sunday.  When Fritolay explained to these people that "Feed Your Flock" was NOT their commercial and was just one of 5,000+ entries in the Crash the Super Bowl contest the complainers then started demanding that the ad not win the contest and be removed from the CTSB website.
And guess what?  Fritolay actually pulled the entry!  So…controversy's over, right?  Ha…no.  Because Fox News just found out about this like a week and a half ago and just because the ad has been pulled doesn't mean they can't squeeze some hatred out of this story. Fox's "Feed Your Flock" coverage started with this short article on FoxNews.com:  http://nation.foxnews.com/culture/2011/01/04/doritos-ad-offends-christians
DORITOS AD OFFENDS CHRISTIANS:

In what may be another ad campaign gone awry, Doritos is featuring a new Super Bowl advertisement in which a priest, searching for ways to return to the church, has a supposedly brilliant idea: Replacing the host wafer with a Dorito. While the denomination of the church is unclear, what is clear is that most Christian denominations consider the host to be a big portion of communion and might find the commercial, titled "Feed your flock!", insensitive. A spokesman for Frito-Lay told The Examiner that the commercial had been approved and would not be taken down from the website. [link to video omitted]

That's the entire article.  It feels like something is missing from that story though, doesn't it?  Oh!  I know…they managed to leave out the fact that "Feed Your Flock" was just one of thousands of entries submitted to a user-generated ad contest!  Not only that, they actually imply that "Feed Your Flock" was going to be Doritos' official 2011 Super Bowl ad.  Anyone who had done more than 30 seconds of research about this would know that "Feed Your Flock" was just a video contest entry and that it didn't even make the Crash the Super Bowl finals.  In fact, by the time that story appeared on Foxnews.com, "Feed Your Flock" had already been pulled from the CTSB website.  So you gotta wonder, did Fox intentionally mislead their readers or did the person who wrote the article not even bother to Google "Feed Your Flock"?
The Foxnews.com story got a flood of angry comments and I guess someone at the network realized they had a potential B.F.D on their hands.  So the story made it to air.  Here's a link to some awful, random Fox News show featuring some random, awful, blond, Fox News anchor where the topic up for debate is "Feed Your Flock." If you're familiar with how the Crash The Super Bowl contest is run and judged you'll realize what little regard the folks at Fox have for the truth. Right off the bat they just make up their own facts and state that "Feed Your Flock" made it "pretty high up but it didn't make the cut because of all the controversy." The ad made it "pretty high up" in the judging? Really?? How the heck do they know that? Answer; they don't. The anchor even very carefully avoids saying this was an entry for a video contest. She makes it sound like Doritos hired several "groups" (implying ad agencies) to create potential Super Bowl ads for them. Watch if you dare:
Not content to just debate the controversial aspects of this ad, Fox had to take things to the next, malicious level by trying to turn a freaking video contest entry into a MUSLIMS VS. CHRISTIANS thing. If you couldn't stomach to watch the above clip, one guy on the panel goes off on a "Why is it ok to make fun of Christians but we can't make fun of Muslims" rant. It's a Goddamn video contest entry and these people are using it as an excuse to reinforce the Us Vs. Them/Muslim Vs. Christian/All or Nothing paranoia that keeps their creepy network in business.
If only there was someone good and decent wandering the media wasteland that could offer us salvation from the hate-mongers! Enter my TV hero, Stephen Colbert. The other night he gave the above "news" clip some of the context it was lacking.  Skip to 2:24 for the "Feed Your Flock" stuff.
That was awesome.  The great irony of this whole controversy is that "Feed Your Flock" has gotten more and better media coverage than all 10 of the actual Crash the Super Bowl finalists combined!  I mean, the entry made it on Stephen Colbert.  That's a hell of an accomplishment.
And "Feed Yoru Flock" did make it on to one more notable show; The O'Reilly Factor.  Now, as much as I dislike Fox I gotta admit, Bill O'Reilly is a lot more "fair and balanced" than the rest of the anchors and hosts on his network.  He's able to get his opinions across without resorting to making up his own facts.  Case in point; here's his coverage of the "Feed Your Flock" kerfuffle.
You know that things have gotten out of hand when it's up to Bill O'reiley to be the voice of reason.  He and his guest basically say "hey, it's not too offensive, Doritos didn't make it or buy it and the ad didn't even make the Crash the Super Bowl's Top 10 so what's the big deal?"
Let's wrap this up by giving the final words to Dave Williams and Mike Lyons; the filmmakers who created the ad in question.
I have a google alert set for "Crash the Super Bowl" and I can tell you that "Feed Your Flock" has absolutely dominated the press coverage of the 2011 Crash the Super Bowl contest.  But now that game day is almost here hopefully the media will turn their attention from one video out of thousands that didn't win to the 10 ads that actually have a shot at airing during the big game.