FritoLay gets a crazy amount of free publicity from the Crash the Super Bowl contest because the media loves the idea that "average joes" can beat Madison avenue at their own game. While it's true that Doritos' CTSB commercials have relatively microscopic budgets I'm not sure it's accurate to say that these "consumer made" ads were created by amateurs. Once in a while there will be a low budget success story like last year's $20 ad "" but the truth is that most of the people who make the finals are professional or semi-professional filmmakers who spend THOUSANDS of dollars to get to the Top 5.
Does that sound unfair? Well, get over it because it's not! The Super Bowl is the biggest TV event of the year and a million dollars in prize money is at stake. So Doritos can't pick commercials that look cheap or cheesy. It takes money and talent to create a 30 second video that is technically good enough to air on television and I tip my hat to all the folks who have the cojones to do what it takes to win this contest.
So how much does it actually cost to make the Crash the Super Bowl finals? Well Doritos always puts out some background info about the winners and sometimes they include the budgets of every commercial that makes the top 5. You can check out the 2013 press page here but I'll post some of the basic info that FritoLay provided. Yes, the numbers in green indicate how much that person spent on their submission.
-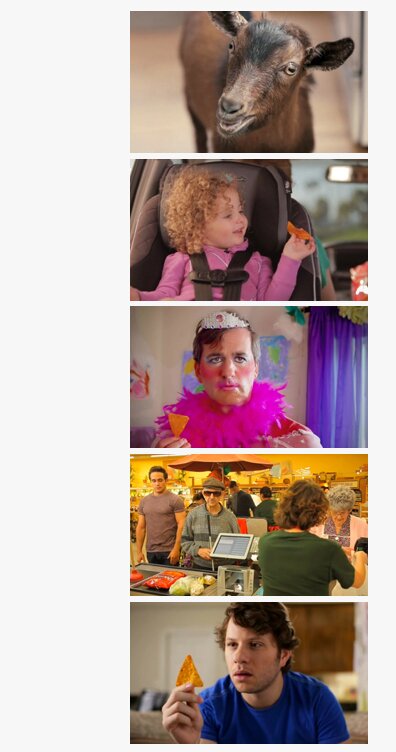 Spot:
Creator: Ben Callner
Budget: $5,000
Occupation: Freelance Film Director
City/hometown: Decatur, GA
Spot:
Creator: Tyler Dixon
Budget: $2,500
Occupation: Freelance writer/director
City: Los Angeles, CA and Lehi, UT
Spot:
Creator: Mark Freiburger
Budget: $300
Occupation: Freelance Director
City: Los Angeles, CA
Spot:
Creator: Sasha Shemirani
Budget: $1,000
Occupation: Photographer
City: Los Angeles, CA
Spot:
Creator: Joe Taranto
Budget: $5,000
Occupation: Student/director
City: Los Angeles, CA
-
So….this is easily the most expensive group of Crash the Super Bowl finalists we've ever seen. TWO entries cost more than $5,000(!) to produce and the others weren't exactly shot on the cheap either. It's also worth noting that all but 4 of the 5 winners live in Los Angeles and 5 out of 5 of them listed their occupation as some kind of photographer or filmmaker. Obviously anyone from anywhere in the US could make the Crash the Super Bowl finals but year after year we see that most of the winners are male filmmakers aged 20 to 40 from Southern California who spend more than $1,000 producing their submission. I'm not saying you need to move to LA if you want to win The Crash next year but if you come up with an amazing idea you're probably going to have to spend a serious chunk of change on your video if you want to be a serious contender in this contest.