Companies run video contests on Facebook for one reason and one reason only; it's an easy and fast way to get tons of new people to "like" their page.  That's why almost all Facebook contests include a public vote phase.  To win, a contestant has to beg all their "friends" to like the sponsor's page, allow the contest "app" and then vote for their video.  Then after the contest ends, all those people that voted will continue to see updates from the sponsor in their news feed.  Plus, if a voter had to allow the contest app, the sponsor has access to some of their private data.  I know that sounds kind of scary but facebook apps are usually harmless.  The basic ones just collect general data so the sponsor knows the demographics of the people that are interested in their products.
But once a contest is over, there's no reason for you and your facebook friends to keep seeing the contest sponsor's goofy updates about how awesome and fun their product is.  Getting rid of a facebook app is a little tricky though.  So here's a step by step explanation of how you turn off the spam:

STEP 1:  Go to your Account tab and click on Privacy Preferences: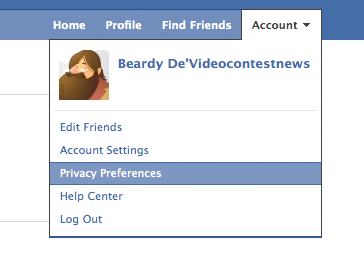 STEP 2:  Look for the Apps and Websites option on the bottom of the page.  Click Edit Your Settings:



 STEP 3:  The apps you have allowed will come up.  Click the Edit Settings button:



STEP 4:  Find the app you want to delete and click the little x to get rid of it for good.



Step 5:  If you want to stop seeing posts from the contest sponsor you may have to also "unlike" their page.  Just go to the sponsor's facebook page and look down the colum on the left.  Click on the unlike button. And that's it, you're done. That mean old company will never bother you again!