On Thursday morning Fritolay is finally going to announce the 5 consumer-made Doritos commercials that will have a shot at airing during Super Bowl 46. According to USA Today, this time around, Doritos received a record 6,100 Crash the Superbowl entries!  You don't have to be Rain Man to figure out that that 6,100 entries and only 5 finalist slots means that each submission has pretty much a 1 in 1,220 shot of making the next round.  So it's pretty much impossible to guess which ads will wind up winning.  But I love a good challenge so just for the heck of it, I thought I'd take a shot and list five entries that I predict will make the Crash the Super Bowl finals this year.  Of course, if I get even just one of these guesses right I'll feel pretty darn proud of myself.  Like I said…the odds are kind of ridiculous here.  But I actually suspect that 2 or maybe even 3 of these commercials will make the final five.
It should be noted that this short list doesn't represent my personal favorite Crash the Superbowl entries.  These are the submissions that I think the judges at FritoLay are most likely to pick based on their past choices.  I'll present my 5 choices without commentary.  To watch an ad, just click on the image: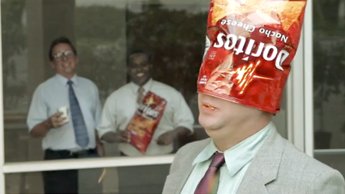 Actually, I have one more prediction I'd like to make; since there were 6,100 entries and since I apparently only watched about 60% of the submissions, I'm guessing that one or two finalists will be entries I've never even seen before.  If you have any predictions of your own, feel free to post your opinions in the comment section.   And be sure to stop here on Thursday morning to find out just how wrong or just how right my picks were.